ALL YOU NEED TO HANDLE ALL OF YOUR INSPECTIONS

ALL OF THE TIME.
MAPPING & ROUTING FEATURES
Built in GeoCoding For More Accurate Data
---
Mapping Our mapping features allow you to know where your inspections are. Plan inspections based on density and make sure inspectors are not driving unnecessary miles.
GeoCoded Properties & Hydrants Accurate data is critically important to us. We make sure when properties or hydrants are entered into our system all data is geocoded. If a point does not code correctly we allow you to update it on the app or in the admin portal.

SIMPLE CLOUD BASED ADMINISTRATION FEATURES
Let us manage your updates and backups
Grid Based Data See all of your data in a grid view. Each user can customize their own grids.
---
Batch Update Data If your data is missing elements, our batch data editor allows administrative users to update data real time.
---
Batch and Auto-Scheduling Setup Auto-Scheduling rotation and you're set. No need for manual batch scheduling again!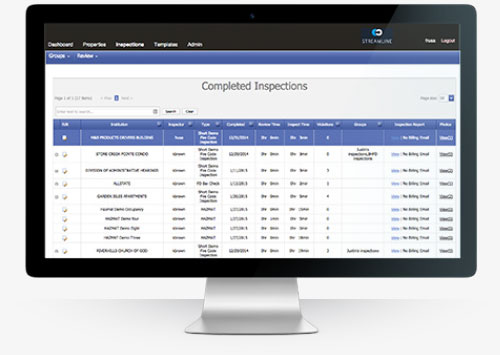 See all of your completed inspections at-a-glance
E-Mail Reports No need to print and mail reports, email directly from SLI Admin Portal.
---
Print Queue If inspections don't have email address, all reports go to the print queue for batch printing.
---
Reassing Workloads Easily reassign workloads based on staffing. Multi-select and reassign in seconds.
The inspection application is Apple iPad based. It is downloaded free from the App Store and licensed to your department's database. We currently support iPad 2's and greater with iOS 6.x and greater. Apple iPad minis are also supported. The Administration portal is browser based and will work with any browser. Internet connection is required and we recommend using Google Chrome or Firefox.
The database is stored on Streamline Automation servers. SAS manages the operating systems and the database (MSSQL) for installed software. Application hardware (iPad devices) is owned and managed by the end user. Data is owned and managed by the City/Department.
Data is transferred through a combination of direct data access and entity framework. The application (iPad sync) communicates via web services. All communication to the database can be done over Wi-Fi or cellular network. Connection from the iPad to the database is only required on sync. All iPad devices are designed to work in an 'offline' mode. All Inspection data is stored in SAS's database and images are stored as files and are associated to inspections\violations.
Yes, there is a full inspection/violation tracking process that allows this type of tracking. This is the greatest strength of our application. We place a great deal of focus on the scheduling and tracking of the initial inspection, re-inspections and all violations repairs and rechecks as well as photos.SAS introduced the concept of an inspection series where you can see the complete series of inspections from the original to the final and associated violations.
Yes, the department configures how and when permits are issued. An example: a permit would not issue until the inspection is completed without violations. It can also be configured not to issue the permit until the violations are cleared and the payment for an inspection is received.

Yes. Each inspection type can have it's own checklist. Inspections types can have multiple checklists assigned and each are configurable by the department. Checklists are highly configurable they are more than just a list of violations to check with yes/no or pass/fail answers.Checklists are made of configurable components (Toggles, Selectors, Dates, Numbers, Text, Photos) and each of these generates events (show\hide, require other components) within the checklist based on responses.